Over the last few years my guide service has really grown, as I am booking a year a head. So my personal fishing time is becoming less and less. I have to block out time to fish with my boys, which is one of my favorite things to do. I like to get them out bass fishing at least once a year, along with all the other trips we do. Well, my oldest missed out on the last bass trip which turned into a competition between my youngest and myself, me not being the victor. My oldest wanted in on the contest, so I set up some rules.
Rule #1: we each had to design and tie a new pattern
Rule#2: we were all against each other
Rule#3: we got to pick one back up fly, so basically it was a two fly contest

My fly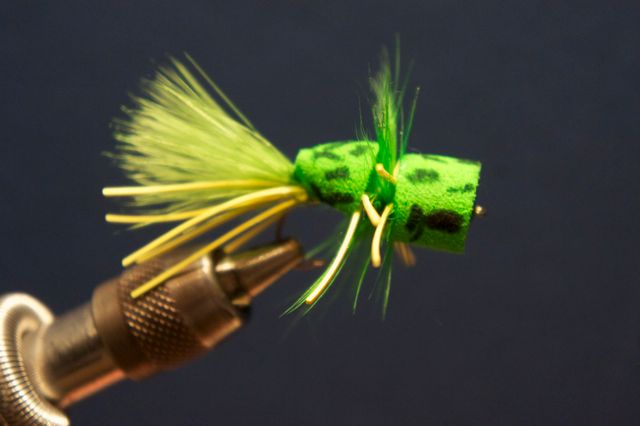 Jax's Fly

Tait's Fly
We couldn't have asked for a better day. It was in the mid 70's and no wind. The river was flat calm. After a short boat ride, I cut the motor and slowly moved into position. As I approached the shore, a fish exploded near shore, so I quickly made a cast and was into a big small mouth on my first cast! It was over 17 inches! As I fought it, I was doing a little smack talking and didn't notice the big rock, and the fish broke me off ! Not only did I lose the fish, I lost the fly on my first cast. I was down to one fly. There was some hooting and hollering coming out of the boys and more smack talk from them.
While I was still hanging my head, my youngest made a cast and he was into a big fish on his first cast. He said, "This is a big one!" But, I really didn't pay much attention. I was busy getting a new fly on so I could kick some butt, then I saw it jump. It was a huge fish! After a great fight I netted the fish for him and it was 20 inches! This was going to shape up to be a great day. Then we went almost 30 minutes before we got into another fish and it was my oldest who caught it but the fish took the fly really deep and I had a hard time getting it out. I ended up destroying his fly in the process, so Tait and I were down to our back up fly and Jax held onto his first fly all day, until he got bored with it and switched to the back up fly. Once you lose or switch to the back up fly, there was no going back to the first fly.
So we covered some water and I was winning, it was something like 7 fish to 2 to 4. So I suggested that they take me on as a team and they were all over that, so I raised the stakes. I said if I won they had to watch me eat an ice cream cone from Gifford's and if they won I had to watch them.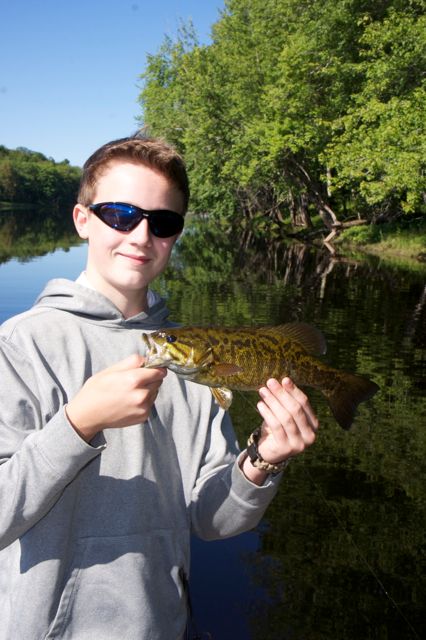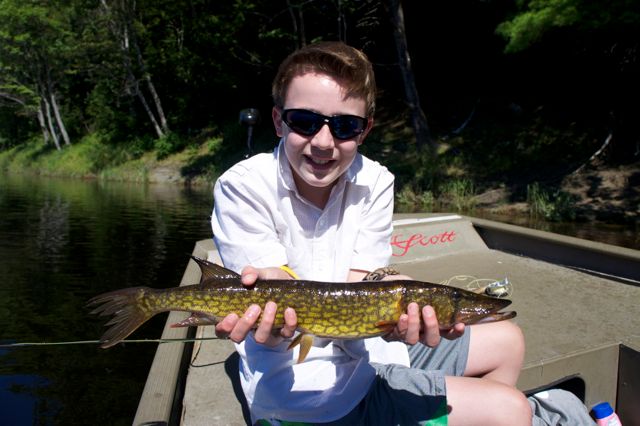 So, we fished for another couple of hours and it was a one fish game the whole time. If I caught one they soon got one, if they caught one I soon caught one. Well, I was leading 15 fish to 14 and we were rapidly approaching the ending spot. I made a cast up under a tree and a fish smashed my fly and soon I was broken off! A pickerel! The boys cheered! Tait said, "Jax we only need two fish! Go!" Not long after that they landed their two remaining fish and pulled off one of the greatest upsets in fishing history. (I am surprised you haven't read about this in Field and Stream Magazine.)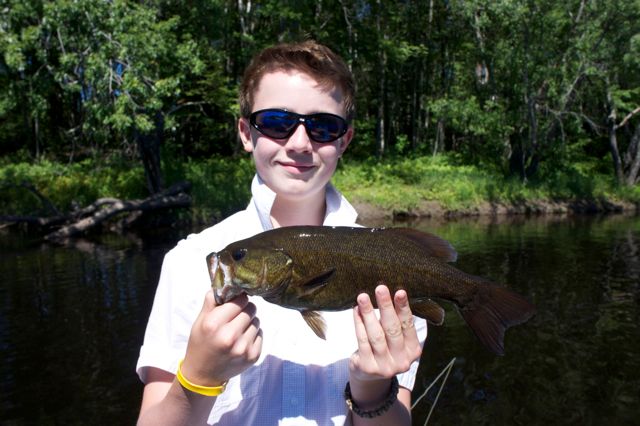 So, two contests and two losses to little kids! I am starting to think that I shouldn't challenge them any more. We had a great time and a lot of fun. Tait said on the way home that he is going to write down the rules, so we don't change them for next time we head out for a contest. I don't know, I can't afford to lose too many times.