So this will be the fourth year my oldest son will go to NY Salmon River in Pulaski to fish for steelhead. Steelhead are seas run rainbows except in NY they run to the Great Lakes in the spring and return in the fall. If you ever have the opportunity to go, you should do it. This year my youngest will go as he turned 11 on October 18th. He has been tying flies for this trip already. I hope it goes a little better than Tait's did. My boys have been fly fishing since the age of three and they fish better than most adults I know and both have caught some nice fish, so when Tait was age 11, I decided it would fun to take hime to NY to catch a steelhead but, I also didn't realize what a challenge it would be.
The trip takes about 10 hours to drive to Pulaski and we don't stop other than for restroom breaks and eating. Luckily, we have been traveling with the boys to Canada to visit family for years, so this was no big deal. As I drove, Tait tied flies in the back seat, which is amazing in itself. As with all the trips to NY I planned well ahead but sometimes I get a little too excited and we end up leaving a day early which is no big deal but often we have no lodging and we have to scramble to get a place to stay a day early. So we ended up in a stinky hotel room that allowed smokers and Tait has extreme allergies.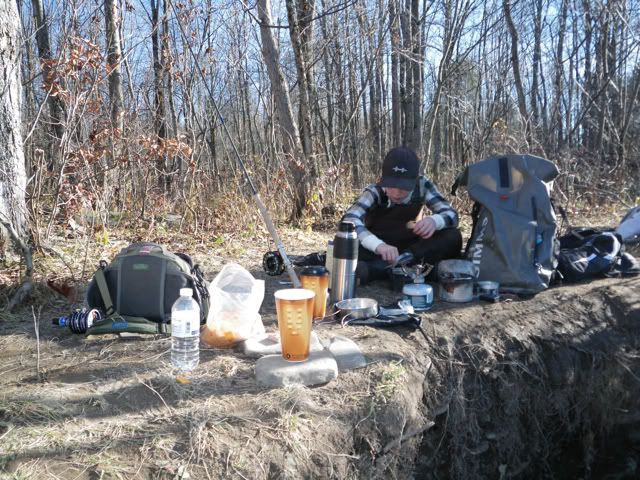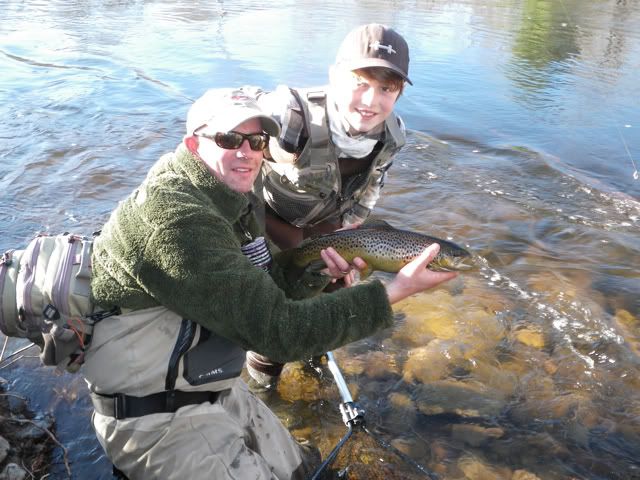 Let me also set this scene up for you. When I go to NY it is November and it can be rainy and cold. We fish from sun up to sun down, meaning we are the first on the river and the last to leave. I didn't adjust our fishing based on having a 11 year old with me, other than maybe where you can wade. I treat my boys like one of the guys when we fish and it was no exception on this trip.
After the first day Tait started getting stuffed up and seemed sick. My buddy and I started to panic. We needed this trip to go smoothly so there would be future trips. So we headed for the closest pharmacy at the local grocery store in search of anything to make sure he didn't get sick. We ended up buying him some kids medicine that phizziled when it was put on his tongue. Well Tait has a real bad gag reflex and when he put it in his mouth it made him throw up in the parking lot. Well, at that point we were really in a panic but it all turned out okay. The next morning he was fine and now we are going on his 4th year.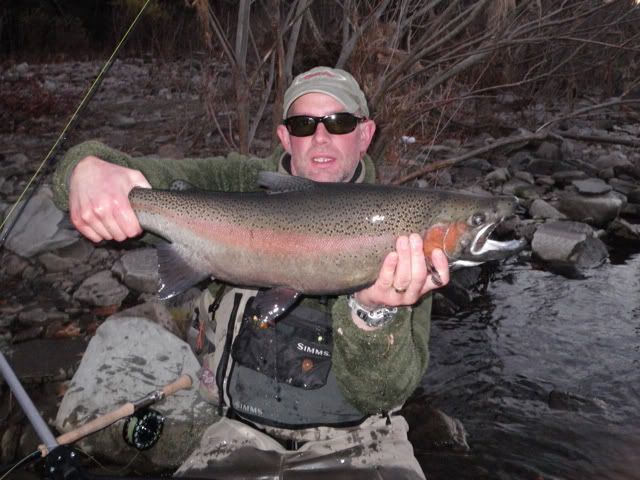 Back to the fishing, we spent four days trying to get Tait on fish. In the first hour Tait hooked a fish around 15 pounds and the fish went crazy. At one point Tait said, "I lost it!" Only to have the fish explode at his feet and take off down river and break him off. That was the story of the three days; he hooked around 15 fish but something would go wrong and he would break off the fish. Which is a typical trip, you hook many and only land a few.
When you have an 11 year old with you, you are limited to where he can wade, so we stayed in the fly zones. As the days went on we started seeing the same faces and they started stopping by and checking on Tait to see if he had landed his fish yet and the answer was always no. On the first day at one point I looked and Tait was sitting down and relaxing. I told him he had to keep fishing if he wanted to land one to which he said he still had three days left and plenty of time. I told him the days would be gone before he knew it and that it would be the last day and still no fish. Well my prediction was right. It wasn't until the last day around noon that he landed his first steelhead.
At one point on the third day I saw Tait hook up another fish and it went crazy! And again it broke off. I looked and he was just sitting there with his head down. I went over to see if he needed help and he broke down. "I just can't do this! I can't land these fish." I told him to take a deep breath and relax. I told him to get back to the fun of it and not to focus so much on landing them. Most of the fun is the hook up and fight and to start fishing when he was ready. Soon he was back at it, but it didn't help that we were fishing every minute we could and stayed up late tying flies and were up early to fish.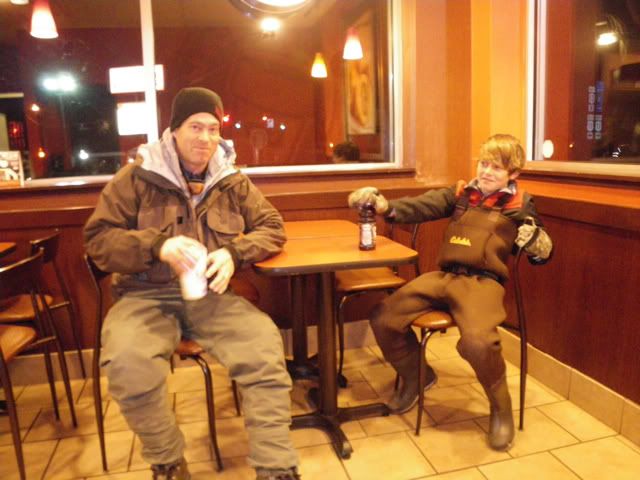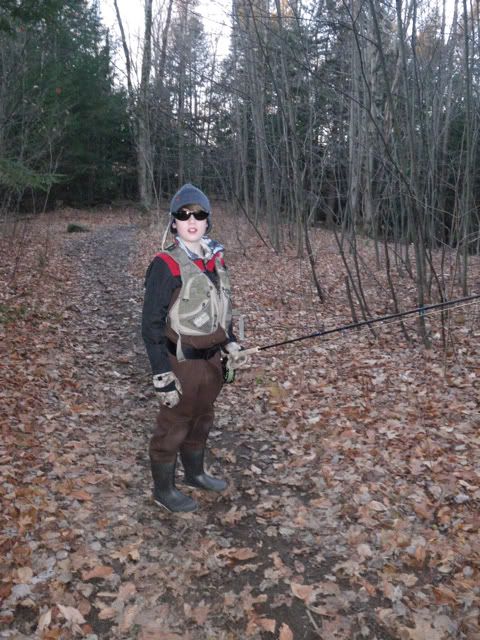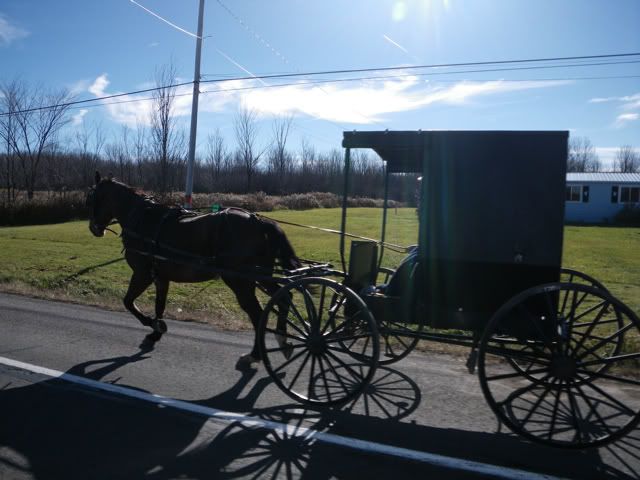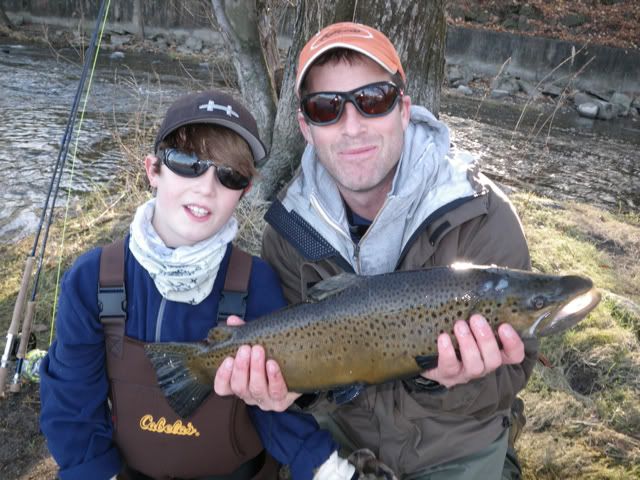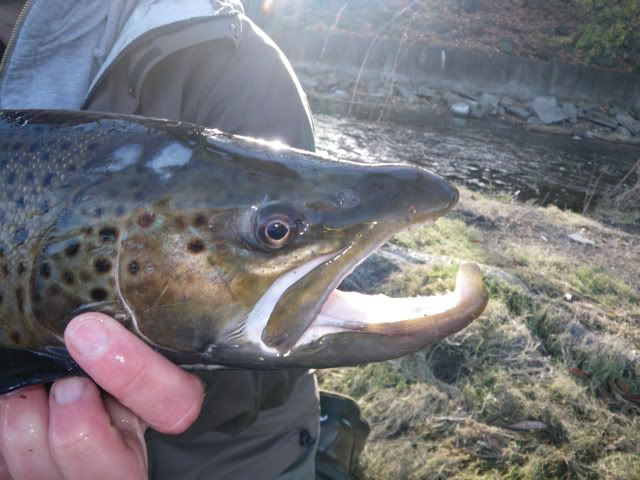 On the last day we arrived at the river well before sun up and just sat there in the dark while Aaron ran for coffee. We were set up in a spot so if he hooks one there was plenty of room to fight the fish and he could slide it into slower water if needed. In NY you can only fish a half hour before sunrise to a half hour after, so at first light we were casting. Tait instantly hooked up and did a great job fighting the fish but the hook pulled and again he lost a fish but we kept casting. Many more fish were hooked and lost until noon. As I stood there looking at my fly box,I saw a big black stone and something just said tie it on. I hollered to Tait to let me change his fly and to take my spot. He cast and instantly was into a nice fish. The fish exploded on the surface and ran across the river and then headed down river. We were in close pursuit. I tried several time to net it but it was just out of reach. I was waste deep trying to get to this fish but every time it got close it pulled line out across the river. We were at the tail of the pool and beyond was fast water, so I waded a little deeper and in one last attempt I lunged the net at the fish and scooped and I fell over backwards into the river. When I stood I had Tait's first 7 lb steelhead. The best part was all the people that were around us started clapping and cheering.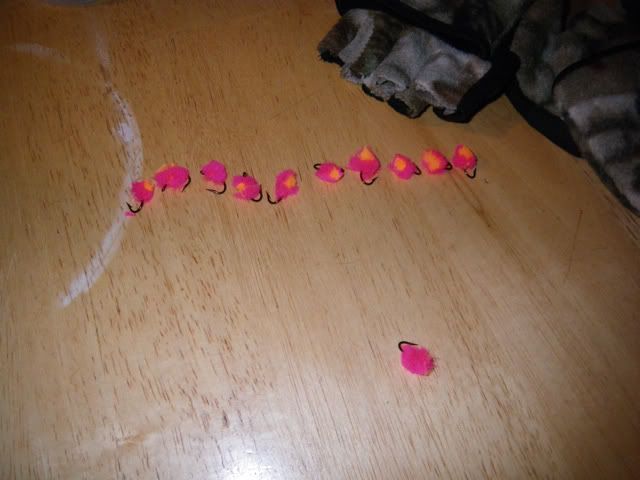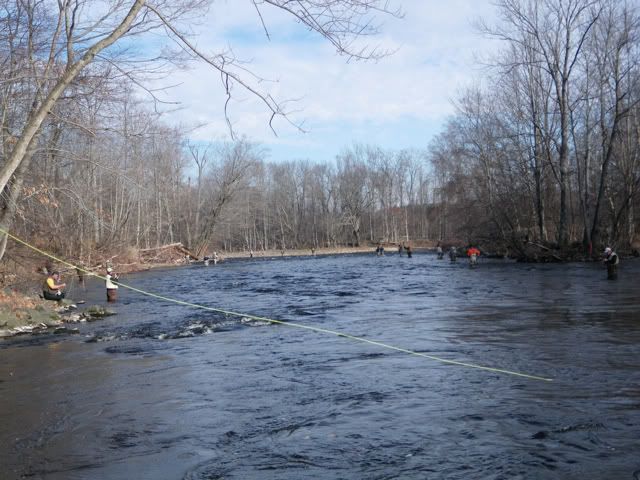 This is a trip we still talk about and this trip to NY has become Tait's favorite fishing trip. He has landed many steelhead and lost many since then. I look forward to my youngest, Jax, this year landing his first. I hope it goes a little more smoothly than Tait's first time, but that is part of the adventure and a big part of the memories.