I recently read an editorial by Tom Bie of The Drake magazine, entitled Enjoy The Now. The short of it was to enjoy every moment, don't pass up on opportunities in the present and never get so busy that you don't have time for what you love. 
That is how I view my boys and fishing. I try to take time with them as often as I can and give them every experience they can get. I know their time with me is very short and before I know it, they will be out on their own enjoying their own moments without me. So being the selfish person I am, I try to make as many moments with them as I can. I also do this with my friends. I am fortunate to have some good friends from my past and many that I have made along my travels as a fisherman and I value every time I get with them also. My last adventure wasn't about the fish but for me the time I was able to share with my boys and my buddy, Dan. My main objective was to get Jax on his first steelhead since this was his first time going.

"Where are you going?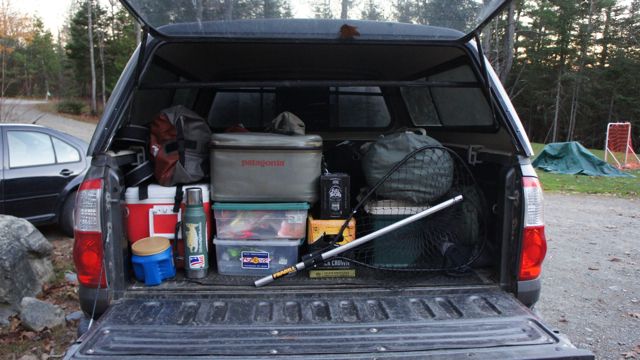 My alarm went off at 11:30 pm as our goal was to be on the road by midnight and arrive in Pulaski, NY by 10 am at the latest. You never know what is going to happen when traveling with two young boys, but when I woke them, they jumped out of bed and were in the truck and we were on the road by 12:00. The trip there was really uneventful, but we did see a little snow and rain on the way, which made me wonder if we packed enough warm clothes. Especially, since the boys packed their own stuff, but it was too late to worry since we were half way there. We arrived ahead of schedule at 9:30 am and went to our cabin to beg the owner to let us change into our waders, as we figured McDonalds would't appreciate us optimizing their bathroom. Sharon gladly let us in, another reason why I love Maple Grove Resort. She has great customer service. Each day onto itself brought a different adventure.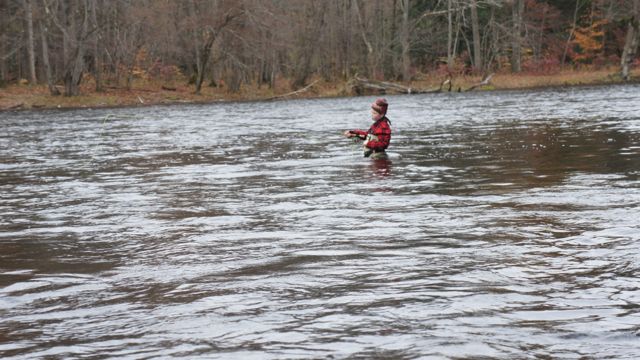 Day one we found ourselves with high flows from all the rain they had received. We watched the flows all week and they were reasonable but on the day we arrived they increased them to 1850 cfs. The flow is usually around 400 cfs when we go. The challenge was to find wadable water for the kids that was safe and that if they hooked a fish they would be able to land it. After hiking around, Dan and I had hooked a couple of fish but had our butts handed to us in the fast water. We finally found a spot the boys could fish safely. Dan gave Tait the option of where to fish and on his first cast he hooks into a monster steelhead in some fast water. I was down river with Jax and we was on a dead run hoping he would land it and I could get a picture! Lucky neither one of us fell trying to get to him. There just happened to be a man fishing below Tait and he was standing out in the river, which I think helped Tait because the fish would run below the man, which kept the fish right in the pool. Tait was able to land the fish of the trip, which was a 31 inch monster steelhead! After the high fives and pictures we moved on with no luck. So we ordered pizza and went o bed early because we were heading to Buffalo, NY in the morning to fish with a buddy that I met on www.maineflyfish.com, many years ago. Brian had some private water he thought we might be able to get Jax first fish on.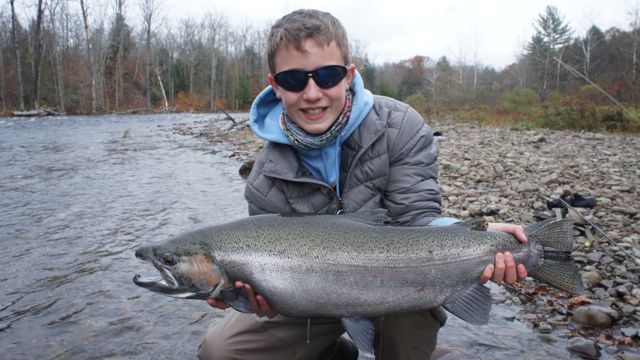 31 inch Steelhead
Brian wanted us at his house by 6 am and we were 3 hours away. I only had four hours of sleep the night we left and the second night wasn't much more. When we arrived at his house it was hardly raining but by the time we were half way to the river it was a torrential down pour and Brian was concerned because these rivers have these high mud banks and any little rain will muddy up the rivers and they can rise rapidly but we took the chance. This place was one of the coolest places I have ever fished. It had these real high banks and beautiful little pools and if you looked close enough you could actually see the steelhead swimming around in them. Jax, Brian and I left Dan and Tait to explore because we were on a mission to get Jax just one fish and Brian knew of a pool with a 100 fish in it but it was a long hike and the closer we got the muddier the river got. Eventually we had to turn around because the river had come up a foot and was rising. Brian checked the flow the next day and where we were fishing the river was so high it would have been over our heads, so good call on getting out of there. He did have a back up plan of heading to the big river and when I say big I mean bigger than any river most of us have ever seen. The up side was the fish skirted up close to the shore and they were big. Jax and Tait had multiple hook ups with Brian helping Tait and I helping Jax but they lost them all. It was cool for the boys to see the fish swimming at their feet. Dan was able to get a couple nice king salmon in. He had a pod of his own right at his feet and he was able to seal the deal of two great fish. As dark approached and the winds picked up to 30 mph and the rain started, Brian offered his house to us and suggested we get another early start and come back in the morning. All other clothes were three hours away, except the kids had a change of emergency clothes, so Dan and I headed to Target to get a t-shirt and sweat pants to change into. Brian's wife even put together some cupcakes with candles for Tait since it was his 14th birthday. After everyone went to bed Dan, Brian and I stayed up drinking beers and telling fish stories, again only four hours of sleep.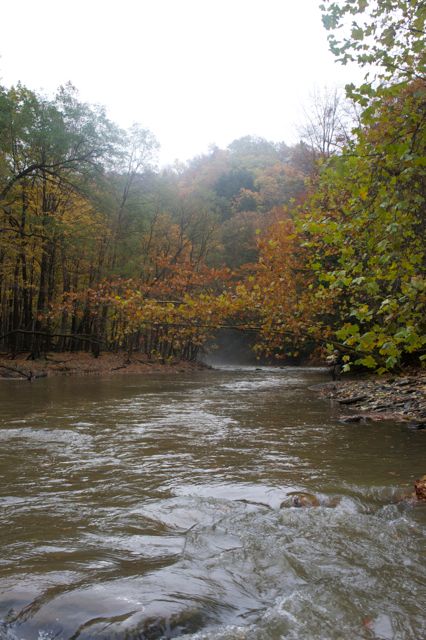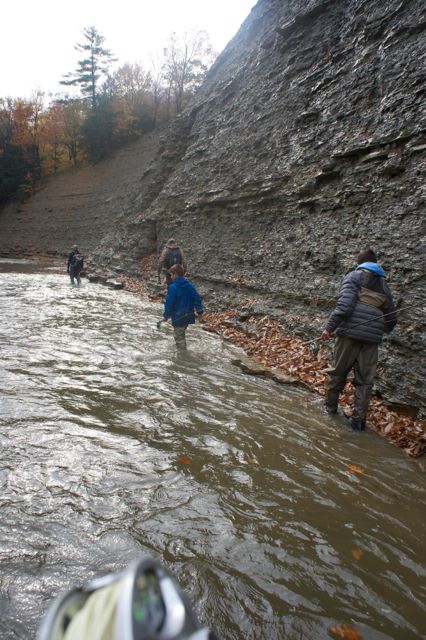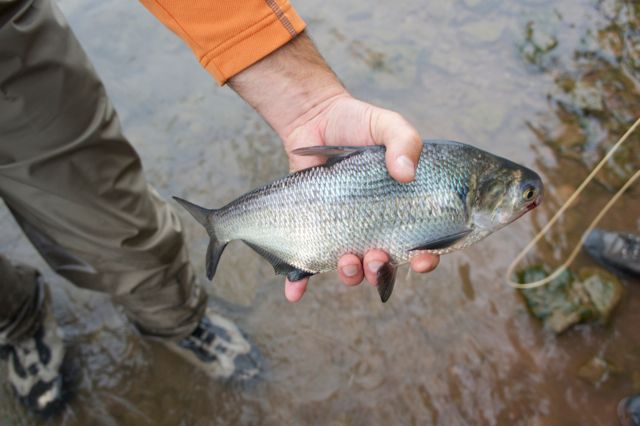 Shad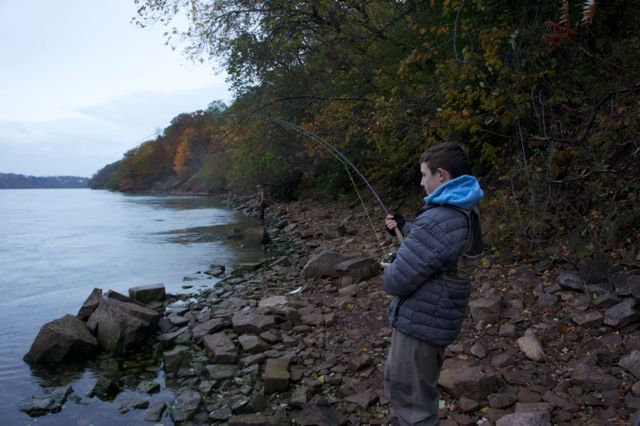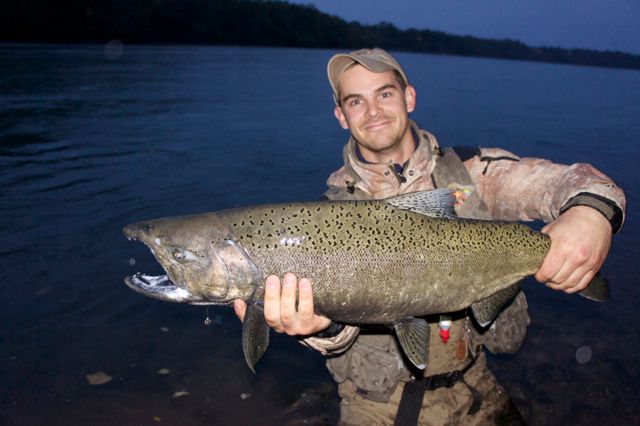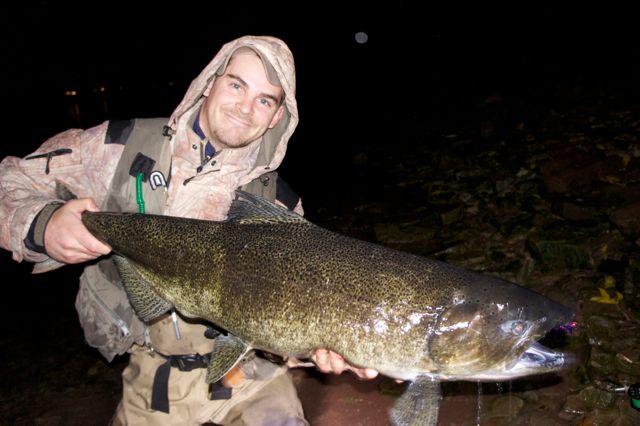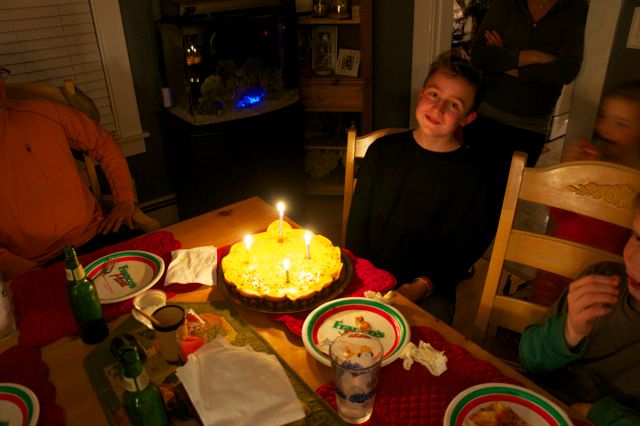 Tait's 14th Birthday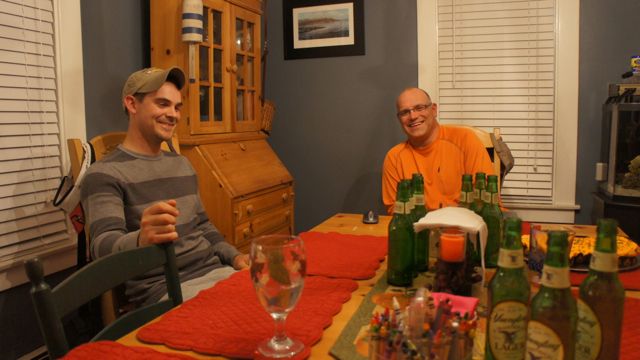 Telling fish stories
Day three we were up and one the water by 5:30 am and sat in the dark for a couple of hours waiting for first light. Brian also kept his son Ryan home from school to take part in our little adventure, who was the same age as Jax,11. It was great to see the kids hit it off and have the passion of fishing. As the sun rose the fish started exploding right in front of us and Jax was instantly into a king, which he lost then continue to hook two steelhead that put him into his backing and broke them off. This fish, Jax will never forget, will be the one that got away.
He hooked this huge king right at his feet and it instantly headed for the middle of the river. I told him to start following it. He asked, "What if I run out of line?" I looked at his reel and almost all the backing is gone. I told him to start moving but it still wasn't fast enough. I took the rod and started running as fast as I could, and Jax was right behind me. I still couldn't gain any line back but we were not loosing any. Tait saw us coming and grabbed the net and he just started running and yelled to Dan "Run!!" Dan just looked at him and laughed. Once we got to a point we couldn't go any farther I gave Jax back the rod and the fish started taking out line again. My only choice was to grab the line and snap off the fish. This was one fresh king, a fight Jax would never forget.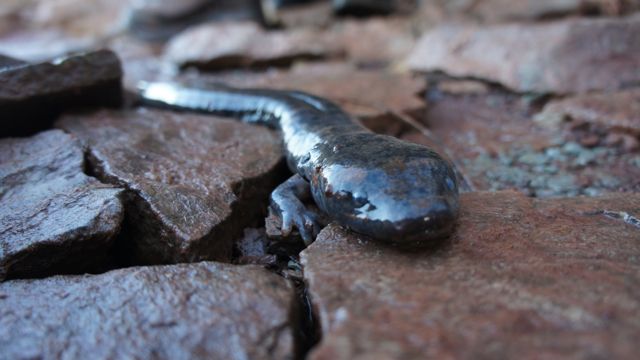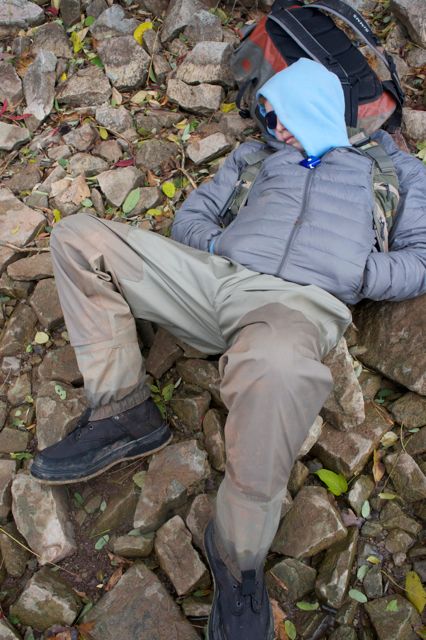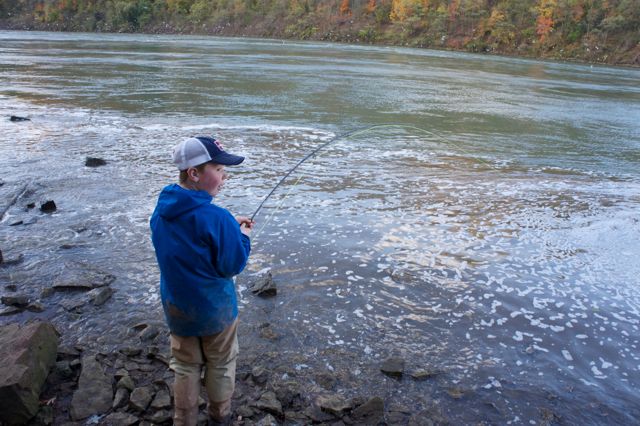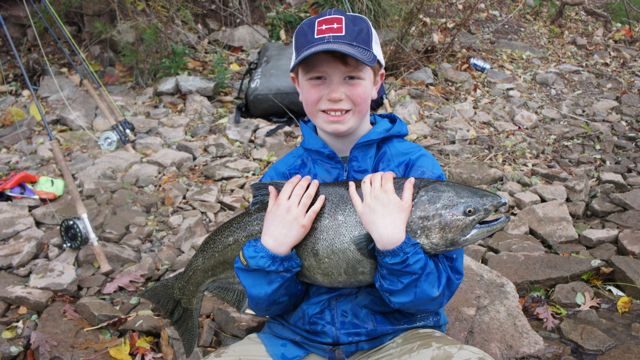 Jax's first King Salmon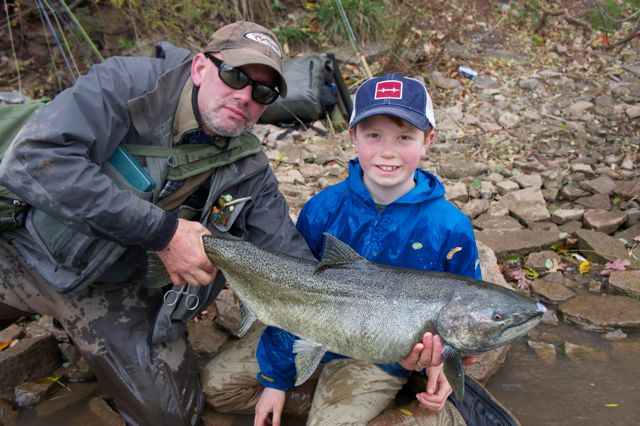 Same fish
Jax was able to seal the deal on a 15 pound female king, his first fish of the trip. It was on a fly that Dan had given him, a egg sucking leech. We had about 10 fish only 10 feet away and he was able to get the perfect drift and he was lucky this fish didn't head back to the lake but had cooperated with us and stayed close. Jax could barely hold the fish up. Jax's first fish was a team effort, my guiding, Dan's flies, Brian's spot and Tait netted the fish. What great two days with Brian and his son, who also was able to get a king salmon with his dad's help. We called it an early day since we had a three hour ride back to Pulaski and our plan for the last day wasn't going to be an easy one because the river had risen a little more and there were only a few spots to fish. The spot we wanted meant an hour hike in the dark, to a spot we had never been to.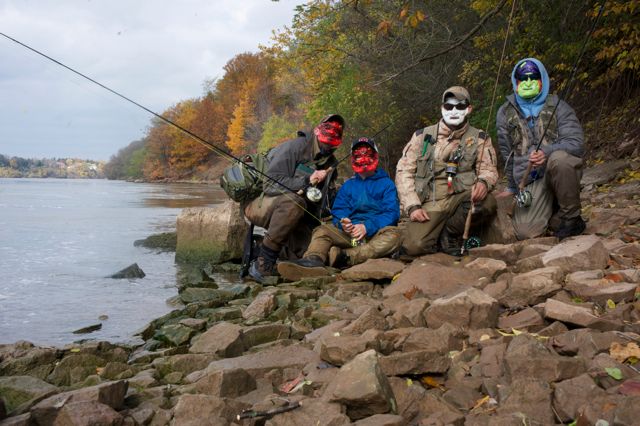 Happy Halloween
Day four up again at 4:30 am. We had a little more sleep but still not enough. We were hiking by 5 am and arrived at the spot by 6 am and had to wait again until first light, since you can't fish in the dark in NY. The last day ended and was epic! We hooked 32 fish between the four of us in eight hours. I hooked 19, only landed one, Dan hooked eight and landed two, Tait hooked four and land two and Jax was able to land his first and only steelhead. It was well worth the hike, but I wasn't thinking that the night before with only four hours of sleep. Dan kept pushing me, so I caved, I knew it was the place to be, but I was beat.
This for me will go down as one of my favorite trips to NY.  I had my boys with me and was able to fish with some good friends. We were able to have some great adventures on this four day adventure to NY. I really believe our free time is too short and any time we are able to spend with family and friends is invaluable in our daily lives. So, as Tom said, Enjoy the Now.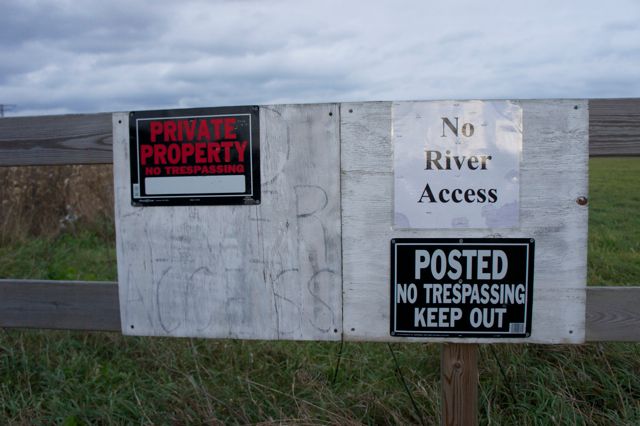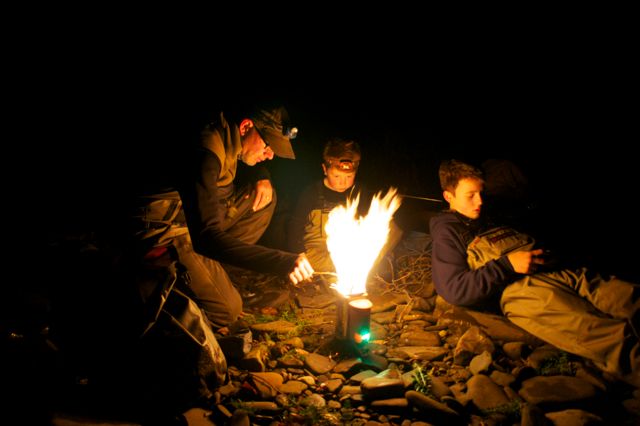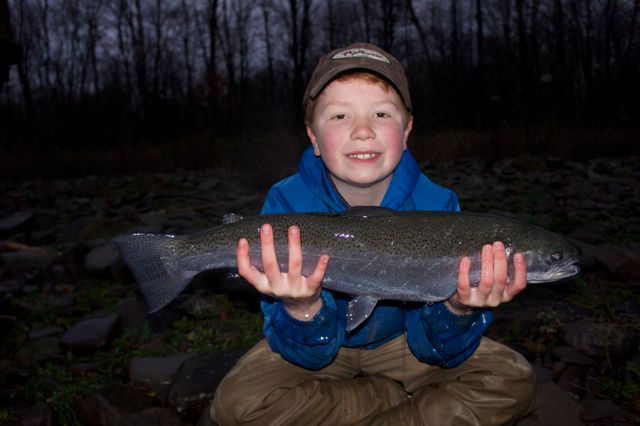 Jax's First Steelhead